Bio and Innovations in Music Education
Allan Molnar is a recording artist, composer, vibraphonist, drummer and percussionist who currently resides in New York where he freelances in the music profession and holds the position of Jazz Lecturer at Lehman College (Bronx, NY). Prior to moving to NYC Allan was very musically active in Toronto, Canada. His experiences include many live and recorded performances in a variety of genres including jazz (Glen Hall, Roswell Rudd, Don Thompson, Phil Nimmons), Latin (Vibrason, Con-Cache, Larry Harlow) and pop (Nelly Furtado, Jarvis Church, Stacie Orrico). Allan contributed vibraphone tracks to Nelly Furtado's Grammy and Juno Award-winning albums "Whoa Nelly" and "Folklore."
 Allan spent 20 years teaching with the Toronto Catholic District School Board and successfully brought many elements of professional music to the classroom by way of his MIDI-assisted approach to teaching instrumental music. His students have benefited from the performance and compositional aspects of this innovative approach to creating music. More than 130 music teachers have been able to duplicate important elements of Allan's program in their own schools as a direct result of his original teaching resources and many workshop appearances at conferences and universities.
Allan Molnar is a recipient of the prestigious "Prime Minister's Award for Teaching Excellence." He continues to work as an independent music education consultant and as a resource teacher for the Canadian Teachers Federation through the "Sharing Teaching Excellence" program.
Allan is a faculty member of the KoSA International Percussion Workshops, works as a clinician for Latin Percussion, ProMark Drumsticks, and Sabian Cymbals, and has served as chair for the Percussive Arts Society Music Technology Committee.
Allan is the cofounder and artistic director of The ALIVE Project (Accessible Live Internet Video Education) and provides arts-oriented distance learning opportunities for students in schools worldwide. Allan presently serves as Executive Producer/Producer and Artistic Director of the Johnny Pacheco Latin Music and Jazz Festival at Lehman College. 
The Prime Minister's Award for Teaching Excellence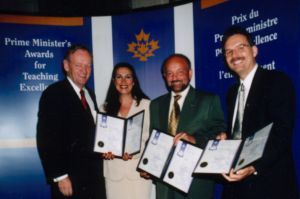 (L - R) Canadian Prime Minister Jean Chrétien, Mary Lou Sicoly, George Brasovan, Allan Molnar
From the Prime Minister's Award for Teaching Excellence:
The Prime Minister's Awards for Teaching Excellence have honoured exceptional elementary and secondary school teachers in all disciplines since 1993, with almost 1,500 teachers honoured to date. Recipients are honoured for their remarkable achievements in education and for their commitment to preparing their students for a digital and 

innovation-based

 economy.
PM Award:
Web Link
Project Discovery at Percussionstudio.com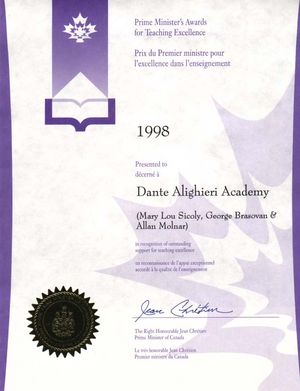 Download Allan's Resume