The Project Discovery Team

George Brasovan, Allan Molnar, Mary Lou Sicoly
Dante Alighieri AcademyToronto, Ontario, Canada Metropolitan Separate School Board (MSSB)
(Toronto Catholic District School Board) (1993 - 2000)
The mission of Project Discovery is to research the effectiveness of technology in music and cross-curricular learning, and to create a confluence of traditional multi-disciplinary curricula with music, drama, art and multimedia.
"This specialized team has worked together to produce an exciting approach to Music Education for our students. Their innovative journey began in September, 1993, when George Brasovan, Allan Molnar and Mary Lou Sicoly were working as part of the Metropolitan Separate School Board's Music Department. Each of them felt the need to develop a new concept for the music program - something which would motivate and excite teachers and students. They wanted to make music education more relevant and appealing for today's students and considered ways in which music studies might enhance their daily learning process."
Project Discovery - Dante Academy, Toronto, Ontario 
"When the three of us first met in 1991, it seemed entirely possible that music classes would fall victim to budget cuts and restructuring. At the same time, the push to introduce computer technology in education was placing even more demands on core curriculum teachers. 
To address these issues, we set about developing a new curriculum that integrates the arts and technology and provides opportunities for students to collaborate on projects involving a variety of subjects. 
Using computers and keyboards to speed up the acquisition of fundamental skills motivates students and rewards them promptly with a sense of their own progress. We have taken advantage of this when integrating technology and music education across all areas of the curriculum."
 - Mr. George Brasovan, Project Discovery 
Web Links
Additional Info from Prime Minister's Award for Teaching Excellence Website
Project discovery: Feature Article in "Professionally Speaking"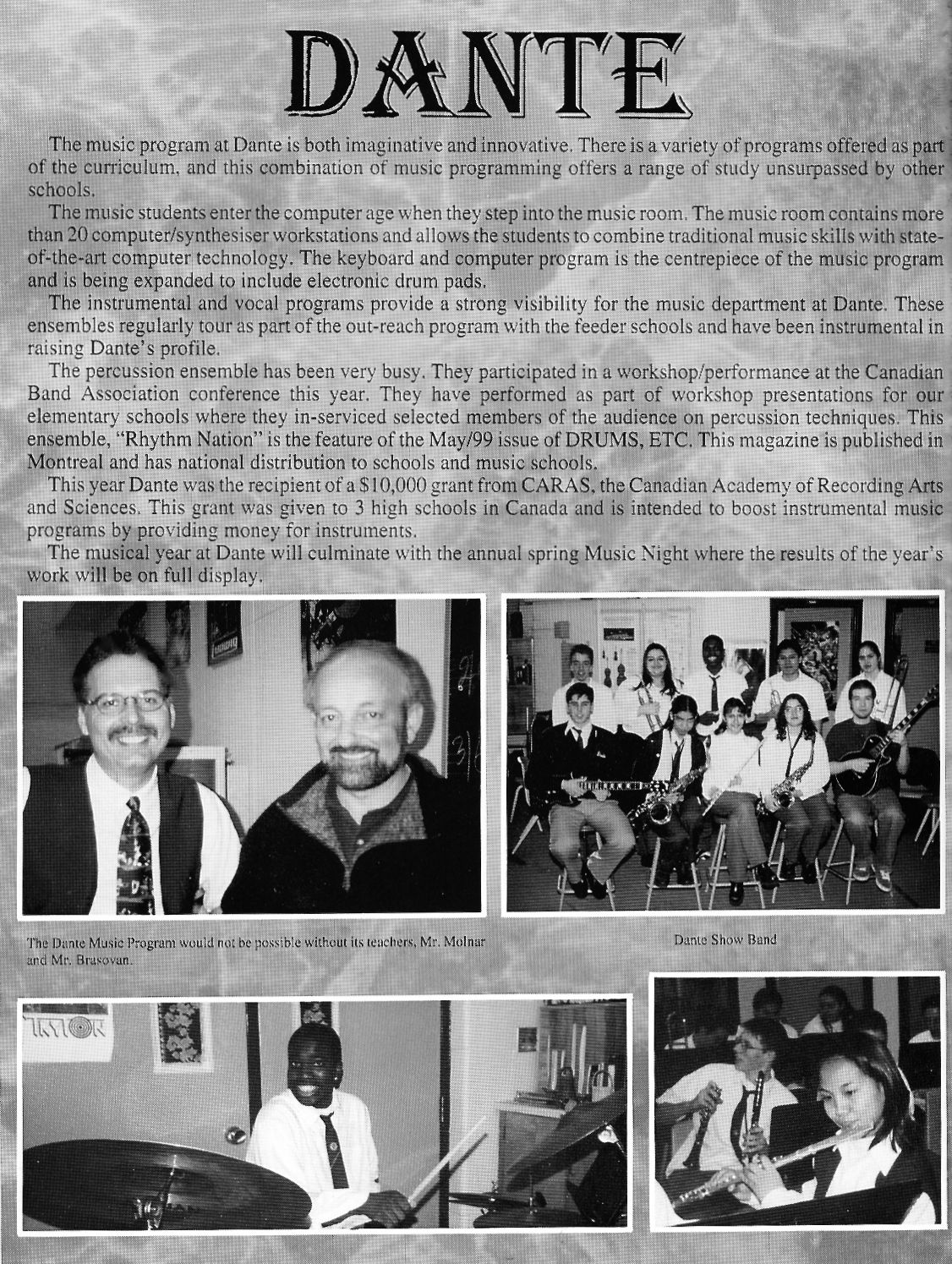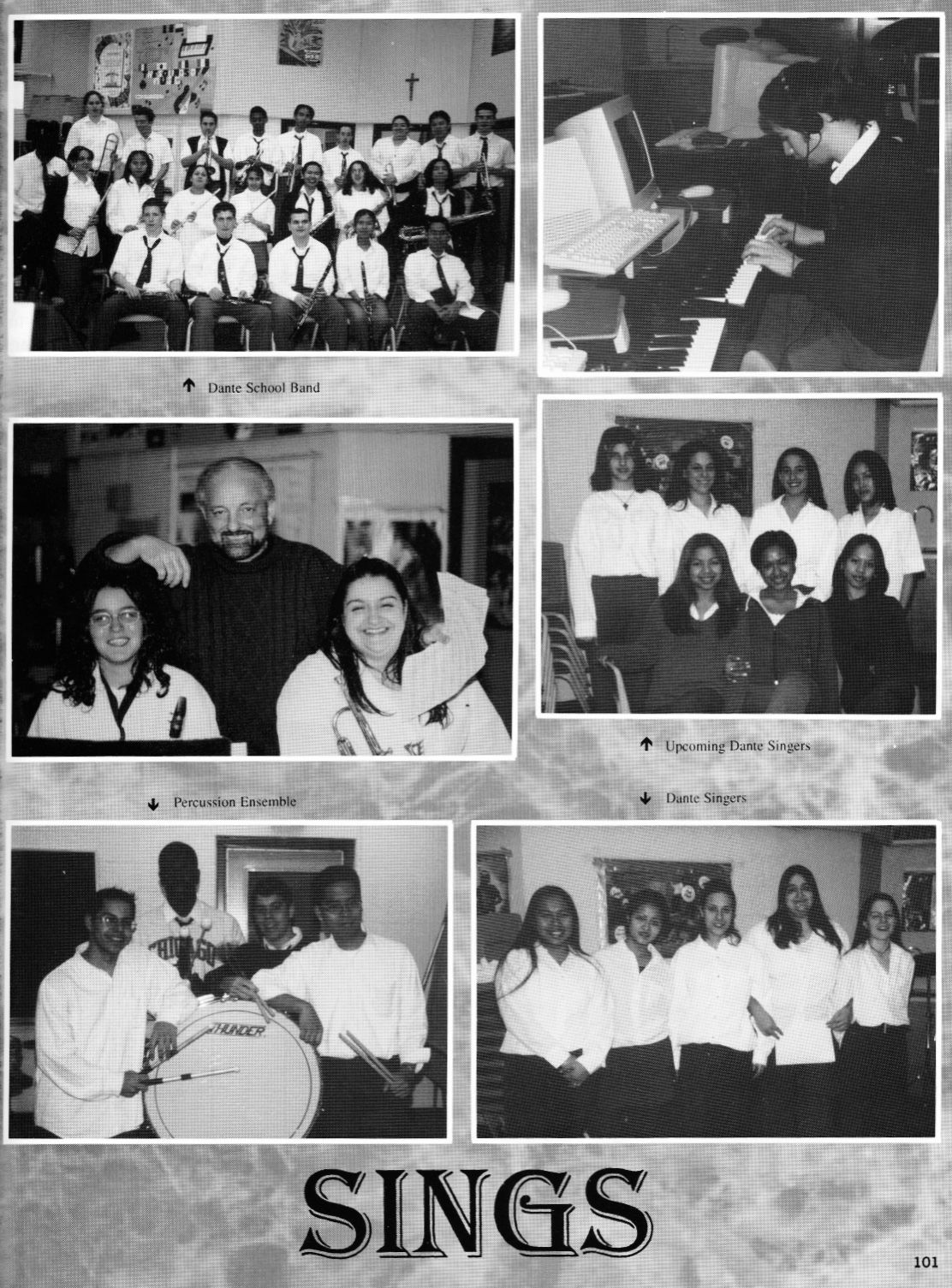 | | |
| --- | --- |
| | |
Quotes:
"This team of three has since established at Dante a music program which exceeds all expectations, serving as a model for what music can mean to a school and its students. It has flourished at a time when music programs at many schools are languishing. Music is now a vital part of life at Dante Alighieri."
                    - Ms. Sue Sillery, Principal, Dante Academy  (Quote from 1997 project support document)                                                                         
 "It is my great pleasure to inform you that you have been selected as a 1998 recipient of the Prime Minister's Awards for Teaching Excellence. 

The program honours the contribution of outstanding educators such as you who have set your students on a path of lifelong learning and have equipped them with the knowledge and abilities they will need to succeed in the society and economy of tomorrow. Through your dedication and skill, you have opened doors for these young people to exciting studies and careers, and in turn are doing your country a great service. You are an example and source of inspiration to fellow educators and all those involved with Canadian youth. Please accept my warmest congratulations and best wishes for continued success."

                       - The Right Honourable Jean Chrétien, The 20th Prime Minister of Canada (Quote from 1999 letter of congratulation)

 
 "This exciting new program has had very positive results for Dante Alighieri Academy. Music students can now take a great deal of pride in their concerts and the high quality program which they reflect. There have also been new opportunities for interdisciplinary projects. English classes, for example, have participated in writing lyrics for musical presentations. Many teachers were in-serviced on their Multimedia approach to learning and have begun finding applications to our different subject areas. In this way, we have all been included in this unique development in education. Their enthusiasm has been contagious and one cannot help but feel that this is just the beginning of future directions for the blending of technology and the arts in education."

                    - Ms. Sandra Boetto, Head of English Dept., Dante Academy  (Quote from 1997 project support document)

 
 "Mary Lou Sicoly, George Brasovan and Allan Molnar have developed and implemented an approach to teaching and learning that use the arts and technology to deliver curriculum that is relevant, integrated and exciting. The model they have developed and used so successfully over the last five years provides the students (from 100-400 in each school) with the opportunity to develop a variety of skills as they work through and cooperate on the selected thematic unit. The model is also designed to serve as an intensive, practical professional development experience for the staff members involved. 

I have had the privilege and pleasure of being associated with this wonderful team of highly skilled and committed educators for the past four years. I am very grateful to them for the tremendous learning experience they have helped to provide for many of the schools for which I am associated." 

                    - Mr. Brian Morris, Superintendent of Education, Toronto East/East York (Quote from 1997 project support document)

      
 "You have inspired your students with your creativity, enthusiasm and energy, and shared your expertise and talents with your colleagues throughout the school system. I take great pride in the knowledge that our teachers are among the best in the country, and am truly pleased that your commitment to music, and to education, is being recognized nationally."

                    - Ms. Johanne Stewart, Director of Education, Toronto Catholic District School Board (Quote from 1999 letter of congratulation)   
 "I was pleased to hear of how your computer-supported link to the creative arts demonstrates the possibilities for bringing these arts into the classroom and encouraging students to explore their own talents in such an innovative way."

                    - Ms. Veronica Lacey, Deputy Minister of Education for the Province of Ontario (Quote from 1999 letter of congratulation)
 "Your outstanding use of technology as a tool to stimulate interest in the arts, particularly music, has been recognized by your peers and your students. You should be very proud of the role you are playing in encouraging students to develop their creativity."

                    - Mr. David J. Johnson, Minister of Education for the Province of Ontario (Quote from 1999 letter of congratulation)